I have put off posting thinking that I was going to get time to take a new photo but things have just been sooooo crazy here at my house. UGH. I had some candle photos planned. I will probably still take them, just no clue when!! Anywho... I ended up digging out some fun photos we took of my kiddos at halloween with glow sticks. We had so much fun playing with these in the yard and the photos came out so cool!!
I think this one is my favorite. My oldest was wonderwoman and it looked like she had a skirt.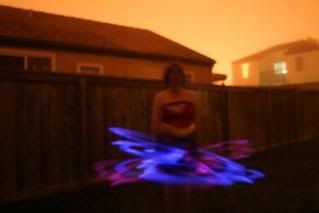 I this one she managed to keep it going in a perfect circle long enough to snap the photo. Love the way it came out!!